O'BROTHER
O Brother, Where Art Thou ?
(USA, 1993)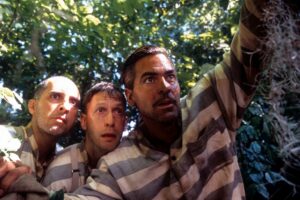 Réalisation: Joel Coen
Scénario: Joel et Ethan Coen, d'après L'Odyssée de Homère
Musique: T Bone Burnett
Avec: George Clooney, Tim Blake Nelson, John Turturro, John Goodman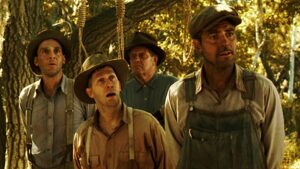 L'histoire se déroule dans le Mississipi, dans les années 1930. Ulysse McGill, Delmar et Pete sont trois bagnards enchaînés qui se sont échappés et tente de retrouver le magot qu'avait planqué Ulysse avant de se faire arrêter. Le voyage sera long et périlleux, surtout que le mystérieux shérif Cooley est à leurs trousses…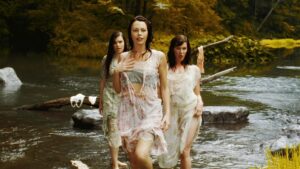 Comédie partiellement musicale d'après L'Odyssée de Homère, dont Ethan Coen est également le producteur. On peut noter une nouvelle adaptation des Sirènes et du Cyclope, sans parler de deux aveugles pouvant être assimilés à Homère lui-même (l'un est un type mystérieux conduisant un wagon, l'autre un producteur de disque qui aura de l'importance dans la destinée des héros). Un clin d'oeil à la mythique série des Evil Dead de Sam Raimi arrive à la fin du film, avec l'apparition de la fameuse cabane (ici la maison d'Ulysse !). La photograpgie du film est particulièrement travaillée, donnant au film une teinte sépia toute propice à l'époque de l'histoire (sans parler du montage qui s'ouvre et se termine par un fondu au noir et blanc).
Une fois encore, les Coen se basent sur l'esprit du personnage principal pour trouver le ton du film (voir The Big Lebowski et la narration hasardeuse dû au héros qui n'est autre que le plus grand paresseux de toute l'Histoire), ici un personnage séducteur, athé et gouailleur (il faut voir ses répliques). Un film très poétique, que ce soit l'apparition des "Sirènes", la danse des membres du Ku-Klux-Klan (le film n'a aucun propos raciste), ou encore les apparitions mystérieuses du shérif, assimilé au Diable en personne par un Noir qui lui aurait vendu son âme pour jouer merveilleusement à la guitare (reprit à la légende de Robert Johnson, un musicien Noir qui est à la base du rock par sa façon de jouer, qu'il disait avoir troquée contre son âme au Diable).
LA SCÈNE: La surprise totale intervient lorsque les héros, se faisant passer pour un groupe appelé les Soggy Bottoms Boys afin de gagner de l'argent, reprennent – avec brio – le tube A Man of Constant Sorrow (ici appelé I'm a Man of Constant Sorrow).