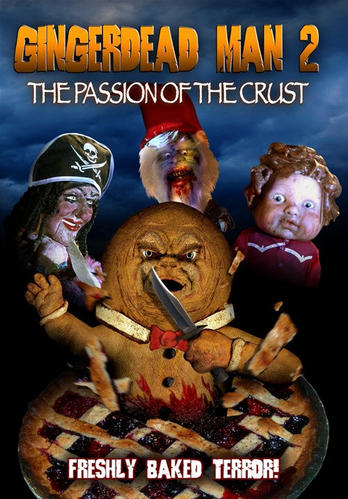 Charles Band et sa célèbre maison Full Moon semblent s'être repris en main depuis quelques temps, enchainant les projets les plus fous (exemple récent parmi d'autres: Ghost Poker, alias Dead Man's Hand avec Sid Haig et Michael Berryman). Parmi les quelques productions qui émergent de cette bonne passe, la suite de Gingerdead Man, le film complètement con où Gary Busey (Point Break, L'Arme Fatale) jouait un tueur réincarné en bonhomme de pain d'épice !
Un film très court (60 minutes), très nazes (peu d'effets spéciaux) et très con (c'est pas gore, les personnages sont stupides et il n'y a aucune logique) mais dont le sujet suffisait à faire envie. Le personnage était revenu par la suite pour faire une apparition dans un autre film de la firme, Evil Bong (un film où des jeunes sont confrontés à un Bang maléfique). Cette fois notre cookie tueur revient dans Gingerdead 2: The Passion of the Crust (notons le clin d'œil à un certain film culte) où il va s'attaquer à un studio de cinéma.
L'occasion de croiser en acteurs des noms connu comme Greg Nicotero (le "N" de KNB, ancien élève de Tom Savini), John Carl Buechler (spécialiste d'effets spéciaux et réalisateur de Ghoulies 3) ou encore le honteux David DeCoteau (qui fantasme sur de jeunes éphèbes en boxer blanc dans des films tout pourri), autrefois "glorieux" réalisateur de la firme (un Creepozoids nanar certes, mais un Puppet Master 3 très réussi). Gary Busey, lui, semble avoir déclaré forfait puisque notre petit biscuit est doublé par un certain John Vulich, qui a surtout œuvré dans les effets spéciaux.
Le film sortira en DVD aux States le 26 juin et donc très probablement chez nous puisque toutes les récentes production Full Moon nous sont parvenue en temps et en heure! Reste qu'a la vue de la bande-annonce, on a l'impression que la Full Moon se prend pour Troma et qu'ils font leur Terror Firmer à eux, mais en plus cheap (et plus cheap que la Troma, faut le faire !).
Mais de toute façon, ça pourra pas être plus naze que le premier.