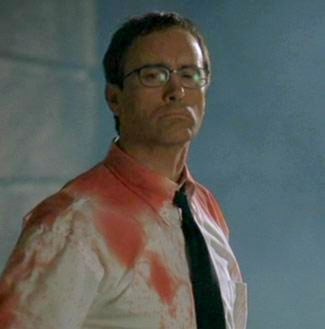 Comme on le sait, le projet House of Re-Animator, quatrième film de la saga et premier volet d'une nouvelle série sur le personnage, semble avoir été mit en stand-by pour d'obscure raison d'après Jeffrey Combs lui-même.
Une histoire du même genre s'étant déjà déroulé pour le troisième volet, qui lui avait plus de chance de ne pas voir le jours (les deux premiers étant des films des années 80, on pouvait supposer que relancer la franchise dans les années 2000 était une tâche impossible), on se dit que ou bien cela tiens d'un sacré coup de promo, ou bien il s'agit tout simplement d'un petit retardement qu'on espère bien temporaire.
Et pourtant l'affaire est de nouveau relancée: une des productrices de la très sympathique série Masters of Horror vient de lire le script, et a subitement annoncée – alors que rien n'a été encore signé – qu'il y a de grande chance pour que House of Re-Animator soit le prochain épisode de Stuart Gordon pour la série. Une idée qui paraît très bonne que de voir le label Masters of Horror associé à l'une des saga les plus significative du genre. Manque de bol, il faut se souvenir qu'aussi permissive qu'elle soit, cette série reste attaché au cadre télévisuel. Pas très grave si l'on se dit que le film était sûrement de toute façon prévu pour une sortie direct-to-video, seulement qui dit "série télé" dit restriction de durée… Et plus exactement un "film" d'une heure seulement.
Vu l'importance du personnage de West et de la saga qui commençait même à prendre un virage très étonnant (exit l'humour exaltant de la saga, bonjours un sérieux morbide et limite terrifiant très proche de Lovecraft !), il serait dommage de limiter le potentiel de cet épisode à une triste petite heure de métrage.