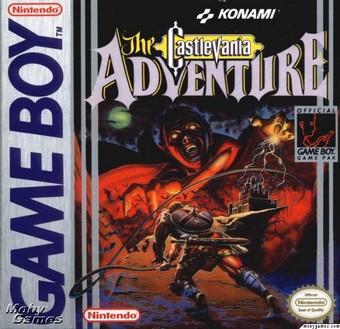 Game Boy
Castlevania: The Adventure
(1989)
Castlevania: The Adventure, alias Dracula Densetsu – littéralement Dracula Legend, est le premier Casltevania paru sur Game Boy (et par ailleurs un des premiers jeux de la console). C'est également l'un des opus les plus détestés de la série en raison d'une difficulté accrue. L'histoire se déroule en 1576. Dracula s'éveille et un membre de la famille Belmont doit de nouveau s'opposer à lui. Cette fois c'est au tour de Christopher. Armé du légendaire fouet "Vampire Killer" il va se frayer un chemin jusqu'au château pour se confronter au vampire…
D'une difficulté extrême, le jeu s'éloigne un peu de la saga de part son système. Il n'y a pas d'armes secondaires (eau bénite, boomerang, dague magique, etc.) mais en plus disparaissent les power-up servant à augmenter la puissance du Vampire Killer (lui permettant notamment de lancer ses boules de feu) dès que le joueur se fait toucher par un ennemi. Autre changement: le gameplay s'apparente plus à un jeu de plate-forme qu'à un Castlevania habituel. Point de scènes de dialogues, point de personnages secondaires. On se contente de tuer du monstre en masse dans quatre levels bourrés de pièges jusqu'à la rencontre finale avec Dracula. Le pire étant que le jeu débute en Easy, et qu'il faut poursuivre à la suite en Hard puis Extra Hard sans mot de passe ! Heureusement les continues sont infinis et on peut compter sur la présence deux items spéciaux: des cœurs redonnant de l'énergie et des chapelets donnant une invincibilité temporaire (??).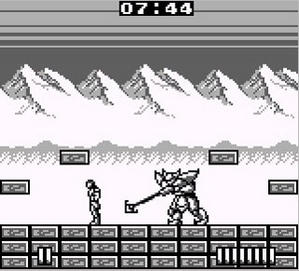 Un des plus grand reproche également fait au jeu, et qui augmente énormément sa difficulté, est sa grande lenteur. Le fait est que Konami a volontairement réduit la vitesse de progression de Christopher en raison d'un gros problème de graphisme (bugs d'affichage lors de mouvements). En l'an 2000 cependant, Konami a ressorti The Adventure sur Game Boy Color, le remaniant légèrement l'occasion et augmentant ainsi la vitesse du jeu. Sorti peu de temps après Castlevania II: Simon's Quest sur NES, The Adventure se situe chronologiquement un siècle après Castlevania III: Dracula's Curse. Le manuel américain a commis une erreur en déclarant que Christopher est le grand-père de Simon Belmont (le héros du premier Casltevania) alors que son personnage était déjà établie dans l'univers de la saga bien avant sa présence sur le support Game Boy. C'est Juste Belmont (Castlevania: Harmony of Dissonance) qui aura ce rôle d'aïeul.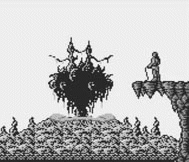 Bien que la date ne soit pas donnée dans le jeu, The Adventure sur déroule en 1576, à savoir 100 ans après les évènements de Dracula's Curse et 115 ans avant ceux du premier Castlevania (mais on peut noter l'existence de Castlevania II: Belmont's Revenge, sa suite direct, se déroulant 15 ans plus tard). Cette date a été donnée dans la timeline officielle instaurée par Koji Igaraashi parue lors de la sortie de Castlevania: Portrait of Ruin.
Le jeu a aussi été adapté en 2005 sous la forme d'un comic-book en 5 numéros, sous le titre de Castlevania: The Belmont Legacy.