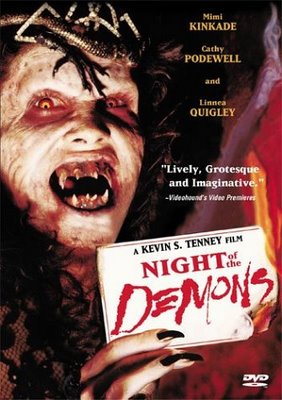 La vague des remake semble finalement increvable et après Meurtres à la Saint Valentin, c'est un nouveau titre qui va être refait: le très sympa Night of the Demons, alias Demon House chez nous quand bien même il est en fait inédit. Night of the Demons est un petit produit de la fin des années 80, où une bande de jeunes se rendent la nuit d'Halloween dans une bâtisse abandonnée, réputée hanté après des évènements passés. Bien sûr ils réveillent une force maléfique qui va presque tous les posséder et les transformer en démons… Un sous Evil Dead plutôt sympa où l'on pouvait retrouver la Reine des Screams Queen Linnea Quigley (et c'est sur le tournage de se film qu'elle trouva son mari, le spécialiste des effets spéciaux Steve Johnson !).
Le succès du film va engendrer deux suites: le très cool Night of the Demons 2 et le très naze Night of the Demons 3. Dans les deux cas, l'histoire est exactement la même mais on retrouve avec plaisir l'actrice Amelia Kinkade, très belle jeune femme incarnant la démone Angela, pendant féminin des habituels ersatz de Freddy Krueger du genre. Étrangement, ces deux séquelles vont être éditées chez nous sous les titres de Demon House et Demon House 2… Night of the Demons 3 devenant le "1er" (Demon House) et le second épisode demeurant le deuxième (Demon House 2). Tout le monde suit ? Le film original, réalisé par Kevin Tenney, va donc connaître un remake dont le tournage est prévu pour 2009. Il sera réalisé et co-écrit par Adam Gierasch (scénariste de Crocodile 1 & 2 pour Nu Image, du Mortuary de Tobe Hooper, du récent Mother of Tears de Argento, mais également du remake de Toolbox Murders). Autant dire que ça pourrait faire peur si le matériau original n'était déjà pas une très grosse série B absolument pas subtile.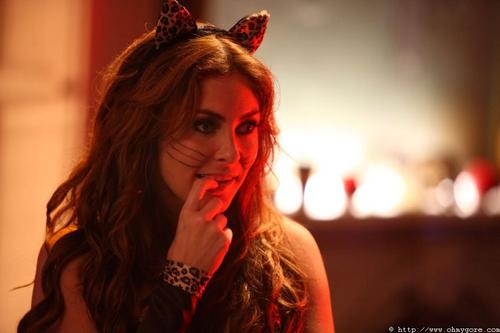 Maintenant, reste à savoir si le film va être aussi fun que les deux premiers volets de la saga (franchement bon dans le genre B horrifique plein de gore et de démons farfelus) ou s'il sera un simple produit édulcoré dans le genre du remake de Prom Night. De même, Amelia Kinkade était tellement à son aise dans le rôle d'Angela qu'on a vraiment dû mal à y voir quelqu'un d'autre. C'est pourtant, étonnement, la célèbre Shannon Elizabeth (la nana d'American Pie, qui au passage s'était faite violer par le bonhomme de neige de Jack Frost pour son premier film !) qui va hériter du personnage.
A ses côtés, deux célèbres Scream Queen: Linnea Quigley, qui assure donc l'apparition d'actrice ayant joué dans l'original (laissez tombé, elle ne s'enfoncera pas son rouge à lèvres dans les seins cette fois), mais aussi l'habituée des Troma et des productions aux rabais Tiffany Shepis. Sont également annoncé Monica Keena (l'héroïne tête à claques de Freddy vs. Jason) et… Edward Furlong ! Le tout petit John Connor de Terminator 2, disparu au sommet de sa gloire pour des raisons d'alcoolisme, et qui n'avait jamais remonté la pente jusque là (saviez-vous qu'il joue dans le quatrième film The Crow ? Inédit chez nous bien sûr). Un casting pareil, on croit rêver. Un mix entre ce qu'un véritable Night of the Demons 4 pourrait offrir (Quigley, Shepis) et celui d'une production plus friqué en son temps (Keena, Furlong).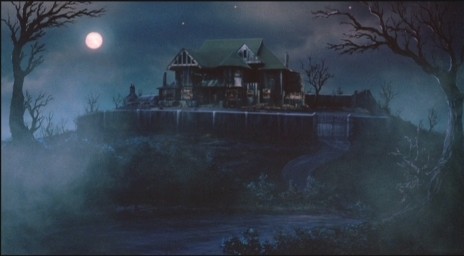 original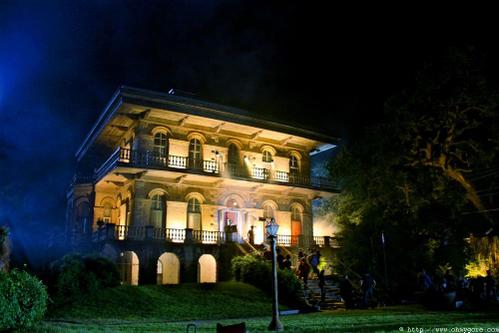 remake
Le remake ne s'imposait vraiment pas puisque les Night of the Demons n'ont absolument rien de classique ou culte, n'étant connus uniquement que par les seuls véritables fans du genre. Les photos elles-mêmes laissent plutôt songeur tant elles ne ressemblent en rien à la série originale. C'est propre sur soi, bien éclairé, et surtout l'ancienne maison en ruines laisse place à un palace friqué au possible. A mon avis, c'est mal barré…
Le remake de Night of the Demons il existe déjà, et il s'appelle Le Couvent !
…
Un remake de Night of the Demons, franchement… On aura tout vu…