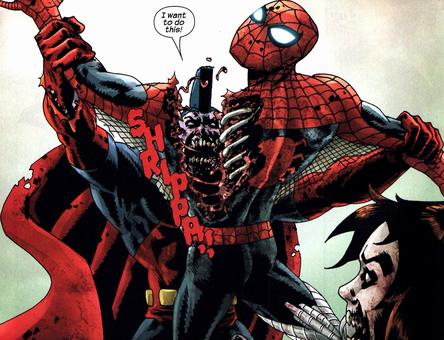 Fraîchement débarqué chez nous cet été, le premier tome de Marvel Zombies va quand même laissé perplexe ceux qui l'on reçu sans rien savoir de la saga. Pas qu'il fallait surveiller les Ultimate Fantastic Four mais quand même. De toute façon, la France est un peu à la ramasse dans la chronologie de cette mini saga à part entière et les news pleuvent plutôt du côté des States. Donc après le one shot Dead Days, prologue à la mini-série, histoire de prolonger le plaisir où l'on pouvait voir Parker bouffer Tante May et M-J et Mr. Fantastic contaminer lui-même les Fantastic Four avant de se faire dévorer d'un air heureux (un petit un plaisir qui ne se voit pas tous les jours), puis l'excellent crossover avec Ash des Evil Dead / Army of Darkness, ce sont les séries principales Marvel actuelles qu'il faut surveiller.
Ça sera tout d'abord l'arc Frightful dans les Ultimate Fantastic Four, où la version zombies des héros jusqu'ici retenue prisonnière s'évade enfin, allant jusqu'à obliger Richard de pactiser avec sa Némésis de toujours, le Dr. Fatalis. Pas très palpitant mais c'était histoire de mettre un point final aux morts-vivants hors Marvel Zombies, laissant toutefois une nouvelle ouverture de taille puisque l'on y voit rien de moins que le Fatalis s'introduire dans l'univers Zombies. "That should be challenging." You bet ! C'est ensuite du côté de l'univers "normal" de Marvel qu'il faut retrouver, en guest stars, nos zombies préférés du côté de N'Tchalla, alias The Black Panther. Nous y voyons les zombies après leur transformation en Galactus en pleine visite chez… les Skrulls ! N'Tchalla et Tornade vont avoir fort à faire mais la conclusion laisse les choses en suspens et il n'y a nulle doute que nous les reverrons encore dans quelques temps. A noter également – d'après rumeur – l'intrusion de Spider-Ham dans l'univers des Zombies, mais n'ayant pu me procurer le comic-book, c'est encore à vérifier. Sinon pour les plus fans il existe une planche-gag dans Wizard Magasine où des gamins prennent les zombies pour les vrais héros.
Et quand y en a plus, y en a encore: dans un registre un peu plus sérieux viens de paraître le premier numéros de Marvel Zombies 2. Cette fois les morts-vivants ont carrément bouffé TOUT l'univers et décident de retourner sur Terre pour récupérer la machine construite par Red Richard (détruite par Magneto je vous le rappel). Pendant ce temps sur la planète, N'Tchalla, vieillissant, gouverne sur la nouvelle génération d'humains. Un coup d'état se prépare, la Guêpe zombifie notre Panthère Noire tandis qu'un gamin retrouve la tête coupée d'Œil de Faucon ! Et pendant ce temps, Parker commence à se rendre compte que sa faim de chair humaine se fait moins grande…
Bref ce nouvel acte alterne l'humour habituel de la saga avec quelque chose de plus sérieux. On attend impatiemment la suite qui ne devrait tarder et on espère de prochaines déclinaisons.