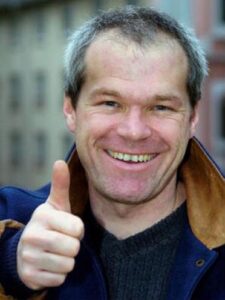 Le pauvre Uwe Boll est décidément un incompris. Et je ne dis pas ça pour me foutre de lui, bien au contraire, puisque visiblement certains n'ont toujours pas compris que le pauvre joue sur cette image du "génie incompris et égocentrique" qu'on lui donne pour se faire de la pub. Ainsi, aux derniers échos et durant la sortie de son adaptation de Postal, il ne fallait bien entendu pas croire qu'il pensait vraiment ce qu'il disait sur Spielberg ou Michael Bay. Quoiqu'il en soit, ce fut la phrase de trop puisqu'une pétition a récemment était mise en ligne pour l'empêcher de continuer à faire des films. Comme je suis mauvais joueurs, je ne vous fournis pas le lien vers cette pétition puisque, personnellement, je trouve ça très douteux dans l'esprit. Qu'on soit énervé du gros manque de qualité des films de Bowl c'est une chose et qu'on le prenne à cœur quand il touche à des jeux qu'on aime bien je comprend aussi (moi le premier je gueulais quand il faisait BloodRayne). Maintenant de là a vraiment penser que c'est un gros con imbu de sa personne et essayer de le virer de son poste de cinéaste, je trouve que ça part un peu trop loin…
En tout cas cela ne l'affecte pas plus que ça (le bougre a d'ailleurs balancé qu'il acceptera le verdict de la pétition lorsque celle-ci aura atteint 10 millions de signature – ou un truc comme ça je sais plus trop et j'ai la flemme de vérifier en fait) et poursuit sa carrière avec l'attendu Seed, un slasher bourrin qu'on imagine dans la veine des Violent Shit de son confrère Andreas Schnaas (mais en beaucoup moins amateur). Seed, c'est l'histoire d'un terrible tueur en série ayant 666 meurtres à son actif et qui, après avoir enfin été capturé, se retrouve condamné à mort. Cela ne suffit pas aux autorités qui, après qu'il ait survécu à la chaise électrique, décident de l'enterrer vivant. Évidemment il en ressort et est bien décidé à se venger… La bande-annonce laisse suggérer une ambiance plutôt sombre et sérieuse, ce qui nous permettrait de découvrir une nouvelle facette du réalisateur (parce qu'on peut pas dire que Sanctimony c'était vraiment ça question ambiance), lequel semble poursuivre dans cette voie avec son prochain métrage, un film de guerre se déroulant dans une tranchée souterraine.
Comme pour décompresser, Boll se décide cependant à sortir enfin son fameux fun cut de son cultissime House of the Dead. Pour ceux qui ne sont pas au courant, il faut savoir que chaque prise du film a été tournée deux fois : l'une "sérieuse" (ce qui donne pourtant le film que l'on sait) et l'autre volontairement foiré pour donner un truc humoristique sûrement pas très finaux. La chose va donc voir le jour très prochainement, et quelque part c'est un peu un bon coup de pied aux couilles de toutes ces pseudo édition "uncut" ou "director's cut" que l'on voit surgir en ce moment et qui n'apporte en fait rien du tout aux œuvres originales.
Allez, courage pour la suite Uwe !