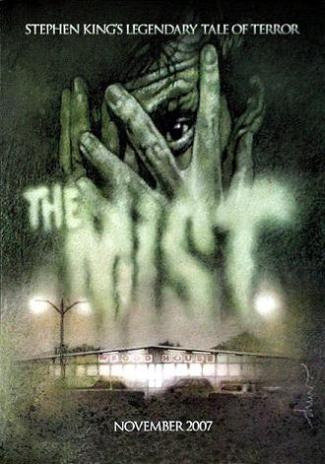 Il est inutile de rappeler que Frank Darabont est LE réalisateur qui a parfaitement su retranscrire l'univers de Stephen King sur grand écran (avec Mary Lambert et son superbe Simetierre). Y a t-il besoin de rappeler la grandeur de ces films humanistes que sont Les Évadés (alias The Shawshank Redemption) ou La Ligne Verte ?
C'est donc avec plaisir qu'on le voit maintenant au commande de Brume, l'une des plus célèbres nouvelles de l'écrivain (et que je n'ai pas encore lu). Une ambiance très lovecraftienne pour cette histoire rappelant un peu le Fog de John Carpenter, où un petit village est assiégé par une étrange brume remplie de créatures indicibles (les créateurs de Silent Hill s'en sont bien entendu inspiré). Stephen King oblige, l'horreur de la situation fera vite monter la pression et les habitants vont se monter les uns contre les autres… C'est Thomas Jane (Peur Bleue et The Punisher version 2004) qui jouera le rôle du père, personnage principal de l'histoire.
Produit par les frères Weinstein (argh !), Brume risque d'être un peu salopé par les producteurs et on espère franchement que Darabont va tenir le coup. Pour l'instant, au vu du trailer, tout cela à l'air très prometteur, malgré des CGI plutôt laid comme c'est la mode (mais l'équivalent dans des films plus "côté" style Harry Potter ou Star Wars est considéré comme du bon travail, alors on va retourner ces arguments envers les détracteurs histoire de leur faire un peu les pieds).
Sortie le 21/22 novembre aux USA, faudra attendre chez nous le 19 mars 2008…
PS. Sinon Darabont vient de déclarer avoir acheté les droits de l'excellent Marche ou Crève. On espère qu'il pourra lancer le projet !