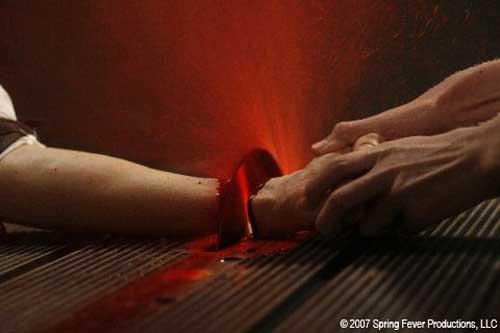 Cabin Fever… Un bon film pour certains, une sombre merde pour d'autre. Pour moi en tout cas, l'un des finals les plus hallucinant depuis celui des Rats de Manhattan de Bruno Mattei… Qui ne se souvient pas de se brave bouseux qui, en début de film, explique que la présence d'un fusil chez lui "c'est pour les nègres" avant de voir au final une bande de Blacks tout droit sortie du ghetto, R'N'B en fond sonore, venir s'en taper cinq avec lui, venant tout simplement venir récupérer leur fusil qu'il avait nettoyé pour eux !
Mais rien, non rien ne pourra jamais nous faire oublier cet étrange petit garçon neuneu, coiffé comme un métalleux du haut de ses 8 ans, se mettre subitement et sans aucune raison à faire du kung-fu au ralenti en hurlant "PANCAKE" à tout-va.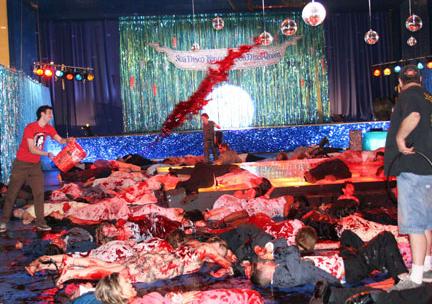 Bref. Tout ça pour dire que si Eli Roth s'est maintenant construit sa réputation avec Hostel (je ne relance pas la polémique), c'est Ti West, un jeune réalisateur récemment découvert avec The Roost, qui s'attèle à la suite. Il livre une séquelle qui ne prendra très probablement pas compte du final apocalyptique (à venir) de la fin du premier opus et tape dans quelque chose d'une moindre ampleur. En même temps, c'est typique du petit budget de la séquelle qui grappille. Ainsi, sous le nom de Cabin Fever 2: Spring Fever (faut-il y voir une métaphore sur le printemps et la fièvre qui s'empare du mâle de chaque espèce qu'il soit sur cette planète ?), ce nouveau film se déroulera dans un lycée lors du traditionnel bal de fin d'année.
Une manière de revenir vers le slasher ou en tout cas un archétype du film d'horreur basique, les contaminés et le virus remplaçant le grand méchant. De là a imaginer que les jeunes adolescents bourrés d'hormones en chaleur vont se jeter, en rut, sur leurs bimbos artificiellement poumonées, il n'y a qu'un pas. Et de là a dire que le Ti est un peu à l'ouest, ben… Ben je l'ai dis ça y est. En même temps il le cherchait un peu ! Et on espère que Ti West saura mener a bien le projet (parce que de ce côté The Roost s'est planté).
Côté gore en tout cas ça a l'air bien parti au vu des clichés promotionnels récemment parus.