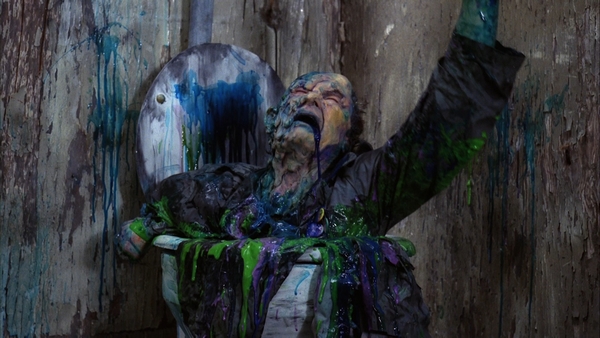 La rumeur la plus folle du moment est qu'un Street Trash 2 va voir le jour.
Quant on sait que Creepshow 3 ou Day of the Dead 2 (nooooooooooooon !!!!!) existent, ça ne devraient plus autant nous étonner que ça. Désormais au nom de l'argent on n'hésite plus à (re)créer une franchise à partir de vieux classique. Cependant Street Trash a toujours était un titre de légende et une œuvre chaotique très particulière, et prendre ce film-là pour lancer une entreprise pareil aurait été non seulement risqué mais très peu envisageable de la part d'un producteur mainstream…
Et bien voilà que l'annonce de cette suite ne vient pas d'un quelconque grand manitou d'Hollywood mais du génial Roy Frumkes lui-même ! L'homme ayant scénarisé le film original, et entre autre réalisé le superbe Document of the Dead (un documentaire tourné à l'époque du Zombie de Romero), vient depuis peut annoncer la possibilité très certaine de ce Street Trash 2. Frumkes annonce que c'est un producteur français qui est à l'origine de cette possibilité, et que si aucun contrat n'est encore signé, les accords seraient déjà en bon termes ! Et comme si ça ne suffisait pas, il annonce même le retour pour la réalisation de… Jim Muro !
Le soucis c'est qu'on connait tous l'histoire. Jim Muro a réalisé Street Trash grâce à un talent encore aujourd'hui inégalé et aurait pu devenir un grand maître du cinéma, hors il a croisé le chemin d'une bande de religieux intégristes pour qui Street Trash était "l'œuvre du Diable". Le pauvre Muro se sera laissé embrigadé dans la secte allant encore maintenant jusqu'à renier son film et se contenter de devenir le meilleur opérateur steadycam à Hollywood (et bossant généralement avec… Brett Ratner…).
Comment convaincre Muro de revenir à ses débuts? On se le demande encore mais Frumkes semble être confiant. Confiant au point même d'annoncer également la présence dans le film de James Lorinz. Celui-ci jouait le portier au prise avec un mafieux dans le film original, mais on se souvient surtout de lui pour avoir été le savant fou du délirant Frankenhooker du génial Frank Henenlotter (qui lui aussi annonce prochainement son retour à la réalisation !).
On croise les doigts et on espère que si le trio revient sur scène, ça sera pour renouer avec leur hargne et leur passion d'antan !