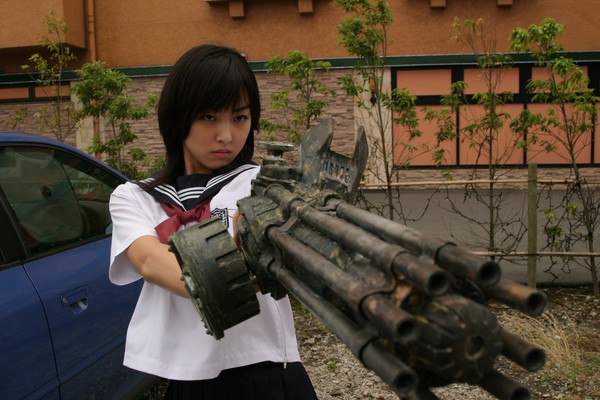 Dans le genre complètement barré, Ichi the Killer avait fait fort. Puis très récemment c'est le complètement dingue Meatball Machine qui avait tapé dans l'œil d'un peu tout le monde. Maintenant c'est au tour du Machine Girl de Noburu Igoshi de faire une entrée fracassante, mélange ultra gore d'un délire d'Otaku et de cinéphage bien énervé.
Ainsi l'histoire, totalement folle, raconte la vengeance d'une jeune lycéenne après la mort de son frère, assassiné par un gang de jeunes voyous. Elle-même agressée, elle perd un bras, coupé par un Yakuza descendant d'une famille de ninja. S'en sortant vivante, elle se fait greffer un nouveau membre mécanique armé d'une sulfateuse et reprend le combat…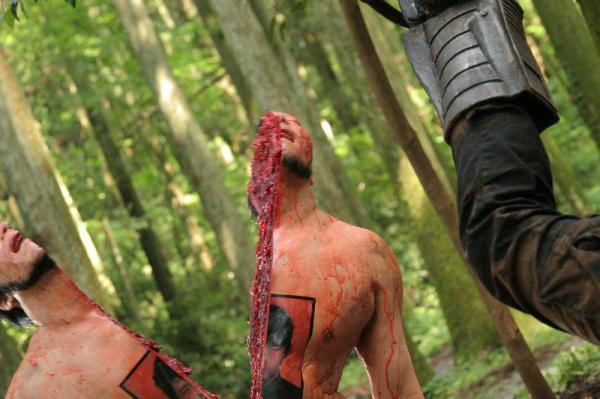 Sur se sujet "classique" mais assez taré se greffe alors une foule d'éléments issus de mangas ou de classiques du cinéma "autre". Ainsi retrouverons-nous une Guillotine Volante comme dans la bonne vieille époque de Wang Yu, mais aussi des Ninjas (ouais !), des Yakuzas, des effusions de sang très exagérées et renvoyant tant à certaines œuvres de Chanbara qu'à Evil Dead… Lorsqu'en plus on apprend qu'une des héroïnes est incarnée par une hardeuse, il apparait clair que Machine Girl ne sera pas exploitable dans l'immédiat ailleurs qu'au Japon.
La bande-annonce laisse envisager une sorte de Versus hardcore, un mélange entre une production Troma et le Tetsuo II de Tsukamoto, avec une touche de Godfrey Ho en plus. Autant dire que le résultat va rentrer dans les annales et qu'il est attendu au tournant, tout comme l'ont été Ichi the Killer et Meatball Machine en leur temps. Espérons quand même que sous ses allures de gros délire nanardesque volontaire, le film soit quand même réussi !