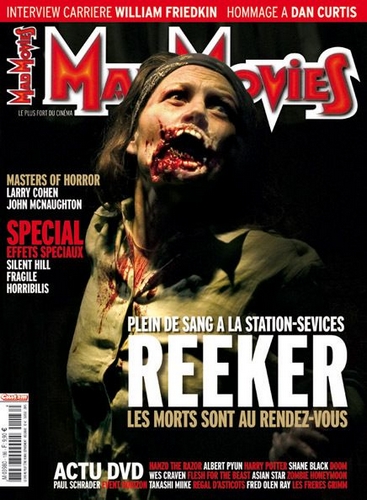 C'est en avance que Mad est sorti ce mois-ci, et avec son DVD ! Faut le signaler !
Au sommaire de ce numéro rien de bien folichon, la faute à une actualité plutôt pauvre. Je zappe les rubriques habituelles pour entrer dans les grandes lignes:
Un compte-rendu de la 24ème édition du Festival du film policier de Cognac, les Masters of Horror encore et toujours, et dont il s'agit logiquement du dernier article (jusqu'à la sortie DVD bien sûr): le Haeckel's Tale de John McNaughton, réalisateur du culte Henry, Portrait d'un Serial Killer, qui semble faire dans le gros gore qui tâche, le Pick Me Up de l'habitué Larry Cohen, au pitch simple mais dément (deux tueurs en série s'en prennent à une même proie) et de nouveau l'article du The Fair-Haired Child de Malone en raison d'une mauvaise iconographie lors du précédent numéro.
Concernant les actualités on aura bien sûr la chronique du Silent Hill de Gans et… D'une petite série B, voir Z, du nom de Reeker, avec interview du réalisateur. Un film sûrement pas top et destiné au marché direct-to-video, mais on commence à avoir l'habitude avec Mad quand ils n'ont rien à raconter.
Reste un joli mais inutile dossier effets spéciaux (alors que le hors-série paru dernièrement est toujours dispo dans les boutiques !). On y parle du latex et du old school sur Silent Hill, Horribilis et Fragile, mais attention ! Énorme spoiler quant aux créatures / fantômes de ces derniers (et hop qu'on te balance une tof de la Mechanical Girl ou du bestiau mutant final de Horribilis) ! A éviter de feuilleter si on a pas encore vu les films.
L'interview-carrière du mois est quand même celle de William Friedkin, à suivre dans le prochain numéro et puis on termine sur les chroniques DVD dont quelques unes ont été un peu poussée (le pathétique Flesh for the Beast ici élevé au rang de série B de haut de gamme alors que bon… c'est franchement pas fameux). Dans un registre bien plus acceptable le coffret Hanzo the Razor de HK, le gros Z délirant Zombie King and the Legion of Doom et une des dernières acquisition de Neo: Zombie Honeymoon, qui aura droit également à une mini-interview du réal.
Pour le reste quelques petits articles sympathiques suivant les rubriques classiques et un papier intéressant sur Dan Curtis, récemment décédé.
Le véritable intérêt (si l'on peut dire) de ce numéro est donc le DVD de Démons II, de Lamberto Bava, toujours aussi hard rock et un peu gore mais bien en-dessous du premier volet. Moins de délire mais plus de Z avec la présence de ce bébé Ghoulie adorables. Un disque à la très bonne qualité d'image, comme pour son prédécesseur, mais qui là encore se contente d'une version française…
Pour le mois prochain, ça sera DinoCroc… Aïe…