LA COLLINE À DES YEUX N°2
The Hills Have Eyes, Part II
(USA, 1984)
Réalisation: Wes Craven
Scénario: Wes Craven
Musique: Harry Manfredini
Avec: Susan Lanier, Kevin Blair, Michael Berryman, Janus Blythe, Robert Houston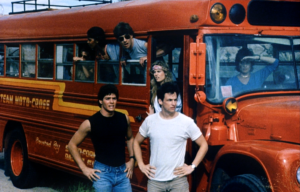 Une bande de jeunes s'égare dans les montagnes où ils seront agressés par les membres d'une famille de cannibales dégénérés…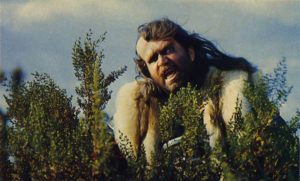 Suite-remake du premier film, toujours de Craven. Une suite inutile qui accumule un grand nombre d'extrait du premier au début, sous la forme de souvenirs de Bobby Carter, le héros réscapé. Trop bouleversé, il refusera de suivre ses amis et sera donc évincé de l'histoire. On retrouvera Michael Berryman, revenu grâce au frère de Jupiter, The Reaper. Ces derniers mourront comme dans le premier (berger allemand massacrant l'un, explosion pour l'autre). Le film est très soft et les morts ne sont pas vraiment montrées. On pourra remarquer que Kane Hodder a fait parti des cascadeurs. Ce même Kane Hodder retrouvera Kevin Blair (le héros) et Harry Manfredini (le musicien) dans Friday the 13th, Part VII: The New Blood. Hodder y sera Jason, Blair le héros et Manfredini fera la musique.
La Colline à des Yeux II est une suite inutile et ont se demande pourquoi Craven a voulu la faire. On peut noter qu'une seconde suite a été écrite, mais qui a évoluée en film de science-fiction dont Craven est le producteur: Peur Panique.
LA SCÈNE: L'héroïne, aveugle, se réfugie dans un puits pour échapper au Reaper. Le fond du puits se poursuit par un tunnel qui débouche à la cuisine des cannibales. Elle traverse la pièce à tâtons, où son entreposés les corps de ses amis.