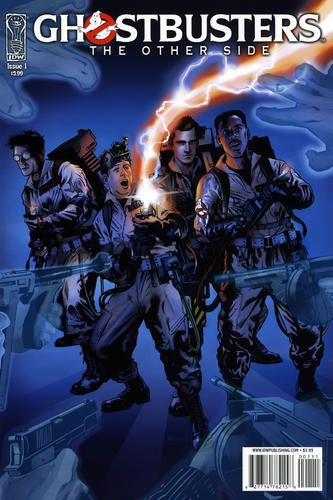 Paru il y a quelques temps déjà, le comic-book Ghostbusters: Legion avait signé le retour très attendu de notre adorable bande de casseurs de fantômes. Des graphismes sympa, une histoire marrante et en continuité avec les films si chers à nos yeux.

Ce mois-ci sort le premier numéro de The Other Side, un autre volet de la saga comics de nos héros. Si on ne l'attendait pas et qu'on peut être agréablement surpris de le voir sortir, celui-ci semble hélas bien en-dessous de son prédécesseur. Doté de graphismes particulièrement mauvais (Winston avec une drôle de moustache, Venkman avec un mulet et on ne reconnait pas Ray), The Other Side pêche également par une histoire qui ne convainc pas vraiment.

Ce premier numéro pose les bases d'une idée pourtant amusante: les SOS Fantômes sont… Des fantômes ! Mais bien évidemment avant d'en arriver là, il faut donc suivre ce prologue qui semble quand même sacrément tiré par les cheveux. Nous voyons ainsi comment notre équipe s'attaque à une bande de spectres mafieux, mission habituel, jusqu'à ce que l'un d'eux réussisse à s'introduire dans le corps de Venkman et à le posséder. Avec quelques revenant, ils abattent alors les Ghostbusters…
Attendons donc de voir le prochain numéro pour que l'histoire prenne son envol, car pour l'instant tout cela est moyennement intéressant et se lit distraitement. Dommage.