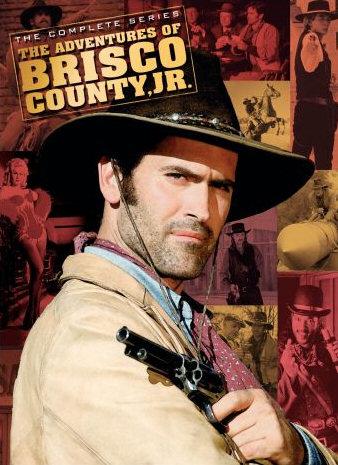 Bon alors ok, la news ne nous concerne pas directement puisque les DVD arrivent aux États-Unis. Mais si ça se trouve, on pourrait espérer un retour chez nous puisqu'en son temps c'est M6 qui diffusa cette série méconnue. The Adventures of Brisco County, Jr. est une série complètement délirante, mêlant Western, comédie, SF et fantastique. Un revival des Mystères de l'Ouest ? Si on veut, mais la série est assez différentes quand même.
Attention, Brisco County n'est pas une incontournable ni parfaite, loin de là. Elle a ses défauts et notamment une production assez chiche, donnant un aspect parfois rudimentaire à l'ensemble. Mais nom de Dieu ! C'est une série avec Bruce Campbell ! Un western buddy-movie fantastique avec la star des Evil Dead ça vous fait pas baver ça ?!
Pour en revenir aux DVD, ceux-ci seront au nombre de 8 et contiendront l'intégral de la série. Là où nous, français, pouvons commencer à baver, c'est que…
1) C'est Warner qui édite, donc sous-titres français plus que probable !
2) Outre la série et son pilote, il y aura des bonus ! D'après DevilDead, on relève des commentaires audio ainsi que d'autres suppléments: "The History of Brisco County", "Tools of the Trade", "A Brisco County Writer's Room", "Brisco's Book of Coming Things" et "A Reading From the Book of Bruce".
Autant dire que tout cela à l'air très complet et on espère que Bruce et ses potes se montreront toujours aussi amusant et sympathique que d'habitude. On annonce la sortie de la chose pour le 18 juillet.