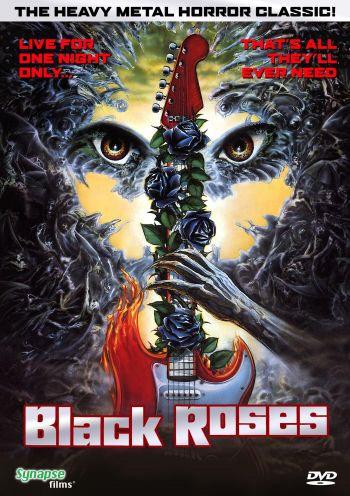 Black Roses, petite série B des années 80 perdue parmi des milliers de ses semblables. Et pourtant quelle musique ! Comment ne pas se souvenir de cette superbe intro au son du "Me Against the World" du psychélédique Lizzie Borden ? Tout une époque révolue où le Heavy Metal, musique rebelle et cool par excellence, était l'hymne nationale du Fantastique et de l'Horreur.
Bref je m'emporte, nostalgique et metalleux que je suis. Toujours est-il que Black Roses va désormais avoir droit à son édition DVD, prévue le 25 de ce mois aux États-Unis, avec commentaire audio du réalisateur, de la scénariste et d'une des actrices (très probablement Julie Adams, désormais connue par les séries Lost et Cold Case, mais surtout une égérie du Fantastique depuis le classique La Créature du Lac Noir – a noter par ailleurs que celle-ci n'a qu'un rôle relativement mineur dans le film, mais ça fait vendre).
On espère une édition française peu de temps auparavant, ce qui est très possible vu le nombre de petits produits sortant dans les bacs sans faire de vagues et apparaissant lorsque l'on ne s'y attend pas. Une occasion de réécouter quelques morceaux fun et de hurler…
Hail ! Soldiers of the Night !