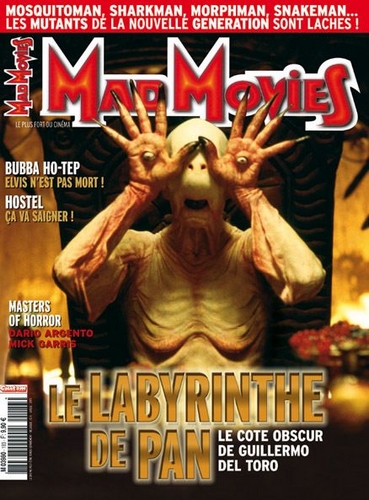 Du Mad Movies à l'heure pour sa version simple (ce qui est suffisamment rare pour être noté) mais en retard pour sa version DVD. Pas grave, cette fois on a droit à une couverture bien plus belle que la précédente.
Au sommaire de ce numéro de février, un petit topo sur les FX de Generation Mutant (les Sharkman, Morphman, Snakeman, Mosquitoman, etc.) ainsi qu'un article consacré à ces films, une longue preview richement illustré du Labyrinthe de Pan de Del Toro (certains dessins son tout bonnement magnifiques), la suite de l'article sur Masters of Horror (avec cette fois Dario Argento et Mick Garris) et un article sur le (ENFIN sorti) génial Bubba Ho-Tep suivit d'une très intéressante interview de son réal' Don Coscarelli, qui revient un peu sur ses Phantasm.
Un article bien entendu sur Hostel même si ce n'était pas très nécessaire au vue du numéro précédent, mais aussi sur Hellbent, le "premier slasher 100% gay" (eh les mecs ! Et David DeCoteau alors, vous l'avez oublié ?) qui a pourtant la réputation d'être un sombre navet, et un long et sympathique compte rendu du sympathique American Film Market 2005.
Viennent ensuite les habituels Interview Carrière (Aldo Lado ce mois-ci, réalisateur de La Bête Tue de Sang-Froid entre autre), les Notules Lunaires toujours aussi drôle, le Fantastic Guide (chapitre 71 les gars !) qui se laisse un peu aller en ne chroniquant qu'un Critters sur les quatre, et bien entendu les rubrique DVD, musique, jeux vidéos, etc. On peut remarquer également un article consacré à la chaîne CineFX, que l'on suppose être présente pour dissiper le malaise suite à ce qui c'est passé après la parution de l'article sur l'apparition de Sci-Fi Channel en France (on se souvient des discussions houleuses sur le Net, sur les forum de DevilDead et Mad Movies entres autres)…
Un numéro très sympathique qui offre cette fois-ci un Lucio Fulci en DVD, The Black Cat. Pas un grand Fulci mais pas un des pires non plus (c'est pas L'Enfer des Zombies mais c'est pas non plus Les Fantômes de Sodome quoi), avec la VF et la VA. Un film pas indispensable mais qui possède ses bons moments.