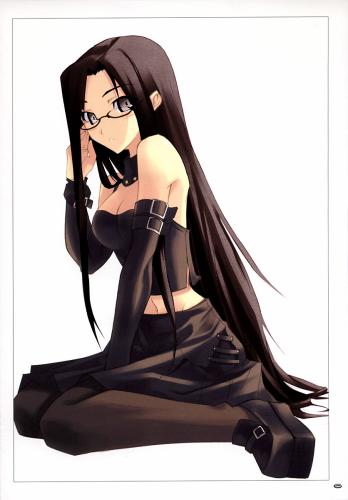 Voici une petite retouche d'image effectuée par Photoshop, faite par Nathalie à l'occasion du lancement du forum Rise of MilleniuM. C'était dans les débuts de mise en forme, lors des recherches d'images pour avatars ou retouches… Il s'agit ici du personnage de Rider de l'anime Fate / Stay Night. Très peu de choses furent modifiées au final tant l'image représentait bien Alice: la longueur des cheveux, le type de vêtement pour le cycle de MilleniuM, son physique et son regard…
De l'image originale, C'est donc les yeux et les cheveux qui ont été changés: les cheveux noirs de jais, bien évidemment, et une coloration un peu plus noir comme reflet dans les yeux, afin de les rendre un peu plus grisonnant et rappeler l'effet prisme / nacre qu'ils possèdent. Les lunettes ont été laissées car ça devenait trop compliquer pour pas grand chose de les supprimer. De plus j'ai toujours pensé que, même si sa vue est parfaite, Alice posséderait probablement une petite paire de verres non pas correcteur mais reposant, afin de ne pas se fatiguer les yeux avec ses grimoires anciens ou ses circuits imprimés miniatures… Les lunettes figuraient d'ailleurs dans son inventaire d'équipement dans Rise of MilleniuM.
Voilà donc ce qui est la toute première représentation visuelle du personnage, avant même les dessins de Nathalie !