Comme on le sait, La Nuit des Morts-Vivants est tombé dans le domaine public pour une histoire de copyright mal placé. Ce pauvre George Romero s'en mord toujours les doigts pour cette erreur de jeunesse, mais tout le monde sait qu'on doit lui attribuer la paternité de ce chef d'œuvre.
Le fait que le film soit libre de droits aura permit à un bon nombre d'éditeurs peu scrupuleux de ressortir ce classique dans des versions plus ou moins fidèles (une colorisée, par exemple), ainsi qu'à ce faux ami de John Russo, scénariste original ayant quitté la Team Romero pour une histoire de divergence quant à la façon de faire évoluer l'histoire des morts-vivants (et croyez moi, sa version de la suite à La Nuit est, euh… ben, mieux vaut Romero quoi), qui est allez jusqu'à retourner des scènes en vidéo pour sortir une version rallongée du film original, défigurant l'œuvre une fois de plus.
Si un pseudo remake était déjà sorti en 1988 (Flesh Eater, de et avec Bill Hinzman, le 1er mort-vivant à apparaître dans la saga), c'est Tom Savini qui, en 1990, sort un premier véritable remake produit par Romero lui-même, dans le but de s'attribuer officiellement, juridiquement parlant, la paternité de La Nuit et de se faire dessus un peu l'argent pour récupérer qu'il n'a jamais reçus la première fois. A la surprise général, Savini livre un "bon" remake, jouant sur ce que l'on connait du film original pour nous surprendre, changeant complètement de direction pour certains personnages et offrant au majestueux Tony Todd le rôle de Ben. La légende dit que Romero serait jaloux du résultat.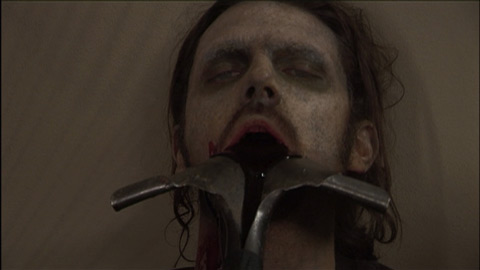 Désormais, voilà que va sortir ce Night of the Living Dead 3D. L'intérêt ? Se faire du fric bien sûr, mais cette fois pas de Romero, ou quiconque de l'équipe original derrière ça. Juste un petit opportuniste qui profite de la vague actuelle des remakes pour se faire de la thune en proposant une relecture apparemment pas du tout fidèle. Et si les zombies ont l'air plutôt bien foutu et que Sid Haig, (revenu à la mode grace à Rob Zombie avec House of 1000 Corpses et The Devil's Reject) est de la partie, ça sent le faisandé… Le montage à l'air de montrer quelque chose qui assure, mais il ne faut pas être dupe: tout cela semble cacher un film cheap, pas loin, au mieux, d'un Dead & Breakfast, au pire d'un (nul !!!) Day of the Dead 2: Contagium. La preuve en est ce SMS reprenant la fameuse réplique "They're coming to get you, Barbara !" tout bonnement ridicule, ou encore la fameuse idée de 3D.
Car oui, à la manière de Spy Kid 3 cette nouvelle Nuit sera filmée de façon à la voir en 3D, via une paire de lunette. Comme dans les bonnes vieilles 80s avec ses Amityville 3D, ses Dents de la Mer 3D ou encore Vendredi 13 3D… Tout un remake juste pour ça ? Ça fait mal quand même… En attendant d'en savoir plus voici le site officiel, mais moi je commence vraiment à en avoir ma claque de ce manque flagrant de créativité aux States…