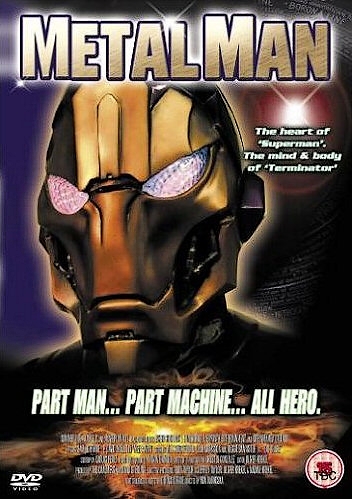 Reggie Bannister, ici, on l'aime bien. Reggie c'est surtout le mec d'un rôle, celui de Reggie (donc) des Phantasm de Don Coscarelli. Éminemment sympathique, l'acteur n'a jamais lâché le genre et on l'a souvent retrouvé en guest-star de luxe dans le films de ses copains, notamment chez Robert Kurtzman (le K de KNB) chez qui on a pu le voir en gardien de prison dans The Demolitionist, en méchant pharmacien dans Wishmaster et en gentil tonton victime de mutations dans The Rage. Il est également une proie de choix dans The Mangler Reborn, second rôle dans Last Rites et putain c'est un foutu bon chanteur !
Alors quand on apprend qu'un nouveau film va compter sur sa participation, ça fait toujours plaisir. Quand en plus on sait que c'est une grosse série B, on est encore plus heureux puisque c'est un milieu dans lequel il est très à l'aise. Un équivalent de Bruce Campbell quoi. Et arrive donc Metal Man où il joue le rôle d'un gentil scientifique ayant inventé une armure / exosquelette surpuissant. Du sous Iron Man donc, et avec une tagline qui déchire ("Le cœur de Superman. L'esprit & le corps de Terminator" !) et un design repompé sur les Cybermen de Doctor Who. Manque de bol, c'est terriblement cheap.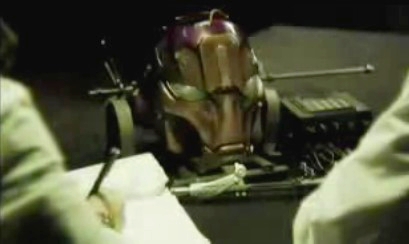 L'histoire, simpliste, montre comment un inventeur fabrique une armure révolutionnaire qui intéresse un mafieux, souhaitant évidemment l'utilisée à ses fins. Le porteur de l'exosquelette va être poursuivit par les sbires de ce méchant entrepreneur, lequel va bien entendu réussir à créer une seconde armure pour son propre compte… Ici on ne juge jamais sur le manque de budget, bien au contraire. Mais force est de reconnaître à la vu de la bande-annonce que Metal Man manque cruellement de moyens, au point que les effets spéciaux sont effectivement très spéciaux puisqu'ils ont l'air de faire passer le serpent de Python pour des CGI techniquement au point. Mais bon, on fermera les yeux pour cette fois et on attendra le voir le film…
… Probablement jamais !