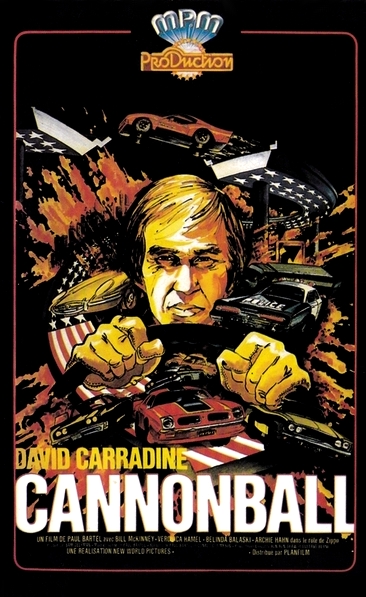 CANNONBALL
Cannonball !
(USA, 1976)
Réalisation: Paul Bartel
Scénario: Paul Bartel, Donald C. Simpson
Musique: David A. Axelrod
Avec: David Carradine, Bill McKinney, Veronica Hamel, Dic k Miller, Robert Carradine, Roger Corman, Martin Scorsese, Joe Dante
Le Grand Prix de la Trans-America, une course interdite car dangereuse. Nombreux sont les concurrents attirés par la récompense de 100 000 dollars pour le vainqueur. Parmi eux, le réputé Coy "Cannonball" Buckman, condamné récemment mais libéré sur parole. Son frère organise des paries avec des mafieux dans son dos et, sur sa route, il retrouvera un vieil adversaire cherchant vengeance…
Le film est vieux et ça se voit aux prises de vue, et aux sautes d'images lors des raccords. Toutefois les personnages sont amusant à suivre et ont tous leur petite histoire. Cannonball ! est une comédie sympathique et complètement délirante: un concurrent doit supporter un animateur radio de country et sa mère lors de la course, un autre qui utilise une voiture emprunté à l'insu de son propriétaire voit son véhicule se faire démolir progressivement, un allemand regrette d'avoir perdu la guerre en voyant le paysage, un père de famille se révèle être un tricheur partant trouver sa maitresse (et lui fait cadeau d'une bouteille de champagne que sa femme et ses filles lui avaient offert), des filles usent de leurs charmes pour échapper à la police, un mafioso joue du piano à toutes occasions (refus de prêter de l'argent, passage à tabac) et des concurrents habillés pareil et conduisant la même voiture embrouillent tout le monde. Les morceaux de "déjà vu" sont nombreux: le héros retrouvant un vieil ennemi qui veut lui faire la peau, le partenaire expiant une faute passée (que le héros a payé our lui) en mourant à sa place, l'héroïne amoureuse… Mais les vainqueurs ne sont pas toujours ceux que l'on croit. Le film multiplie les guest stars (Corman, Scorsese en mafieux, Dante en "kid"), les poursuites sont de vraies poursuites (en tout cas c'est mieux qu'un 60 Secondes Chrono ou qu'un Fast and Furious). Son époque, les Seventies, lui vaut un bon petit charme rétro agréable. Tout en restant une comédie, le film n'oublie pas d'être sérieux, voir sombre par moment (la scène du cauchemar). Chuck Russell y fut assistant de la production.
LA SCÈNE: Celle des accidents en série, vers la fin. Un sniper élimine un conducteur. Celui-ci se crash et la voiture explose. Son concurrent, surpris, se déporte et frôle la voiture sous laquelle était placé le sniper qui meurt écrasé (et y a du sang). D'autres concurrents repèrent alors une femme blessée par l'accident, ils l'emmènent et provoquent la chute d'un poids lourd qui fini sa course dans la voiture du sniper. Explosion. Suite à cela, un nombre incalculable de voitures s'encastrent les unes dans les autres façon The Blues Brothers, avec de gigantesques explosions au moindre choc, même léger (on y croit tous, à croire que tout le budget du film y soit passé). Vraiment spectaculaire. Moins impressionnant, mais tout aussi appréciable, la scène du duel en voiture entre Cannonball et son adversaire, dans le chantier d'autoroute (et qui s'achève sur… une explosion !).