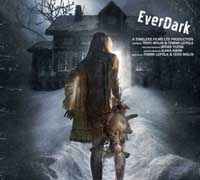 Et oui, car Brian Yuzna n'en a pas fini et va continuer ses projets sous la bannière de Halcyon International Pictures. Et quels projets ? Bien sûr de "petits", tel ce Everdark (histoire de Poltergeist co-écrite par Yuzna) et ce Sprawl: Grizzly (une horde de grizzly sauvages va s'attaquer à des citadins en vadrouille), mais il y a évidemment LE projet, celui qui aura toute les chances de permettre à Yuzna de faire connaitre sa nouvelle société: un quatrième Re-Animator !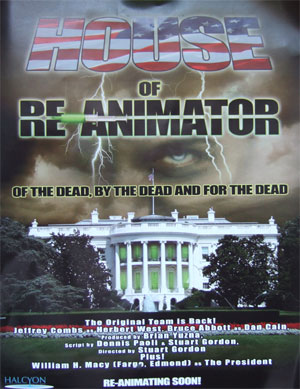 House of Re-Animator, un projet dont Stuart Gordon (réalisateur du premier opus) avait déjà un peu parlé à la sortie de Beyond Re-Animator… Celui-ci voyait alors une satire politique, faisant se dérouler l'histoire à la Maison Blanche où le vice-président (apparemment une caricature de V.P. Cheney) est victime d'une crise cardiaque. Herbert West serait alors appelé à le ramener à la vie pour couvrir cet évènement, ce qui ne fera bien sûr qu'empirer les choses…
A l'annonce de cette nouvelle, Jeffrey Combs avait déclarer être prêt à reprendre le rôle du bon docteur. Désormais nous en apprenons plus. Avec les producteurs dans la poches, Brian Yuzna et Stuart Gordon lancent donc la machine en route. Le film sera bel et bien ce House of Re-Animator et l'idée de Gordon a été gardée. Pas d'autres éléments à propos de l'intrigue pour l'instant, mais du très gros en perspective:
Brian Yuzna à la production et Stuart Gordon à la réalisation. Jeffrey Combs sera toujours Herbert West et… Bruce Abbott reprendra le rôle de Daniel Cain ! Personnage absent du troisième opus et expédié de façon peu satisfaisante (il aurait trainé West au tribunal pour le massacre de Arkham), on ne peut que se réjouir du retour de la Golden Team du film original et on à hâte de voir comment sera traité le duo West / Cain.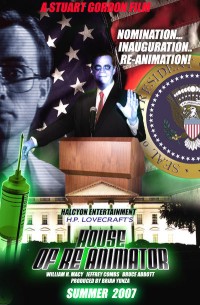 Évidemment David Gale ne pourra jamais revenir en tant que Dr. Carl Hill, décédé peu après le tournage du second épisode, et on pourrait toujours fantasmer sur un retour de Barbara Crampton dans le rôle de Meg, mais ceci reste encore un délire de fan. Pour se consoler, quelques autres nouvelles réjouissantes:
Le Président des États-Unis pourrait être interprété par William H. Macy (l'Homme-Pelle de Mystery Men, et inoubliable dans Fargo) et… il est annoncé que deux autres Re-Animator, encore, sont en projet, faisant ainsi de House of Re-Animator le premier volet d'une seconde trilogie sur le Dr. West !
Le rêve absolue, reste qu'il faudra que les histoires tiennent. Mais avec du gore (Yuzna oblige) et Jeffrey Combs, tout espoir est permis. Après tout Beyond Re-Animator s'était annoncé sous les plus mauvais auspices (Combs pas prévenu officiellement de cette nouvelle séquelle, problème de droits, absence de Bruce Abbott et de la musique de Richard Band…) et pourtant on connait le résultat.
Fantastic Factory est morte mais Herbert West veille au grain ! Merci ! Tout cela débute ce mois-ci à Cannes, du 17 au 27, où les producteurs et le réalisateur tenteront bien évidemment de vendre leur projet aux distributeurs !