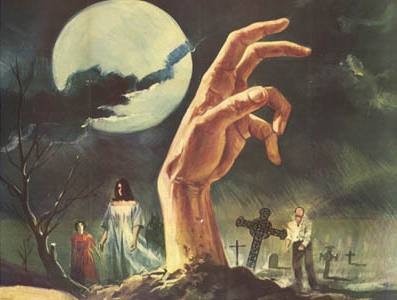 Il y a peu, l'ami et collègue Dirty Max, aka Madeleine Tenebrarum, clôturait tristement son blog The Dirty Cinema, que vous pouvez trouver ici-même dans la section Liens et Contacts. Pas un adieu définitif heureusement, en fait un simple déménagement suite à la politique assez douteuse d'Overblog qui en a fait fuir plus d'un (j'ai moi-même quitté le navire pour rejoindre Blogger).
C'est ainsi qu'hier ouvrit ses portes le bien nommé The Dirty Cinema 2, suite logique des pérégrinations de son auteur à travers la culture Bis et trash. Une nouvelle plateforme plus permissive puisque, on le sait, Blogger a récemment reculé sur sa prise de position qui était similaire à Overblog. Point de censure, point de contrôle du comportement, ce qui tombe plutôt bien quand on s'appelle Dirty Max.
Voilà donc un premier texte d'introduction, assez explicatif sur la situation, qui en prime à la gentillesse de citer quelques uns d'entre-nous, collègues bisseux et bloggeurs. On apprécie beaucoup Madeleine, sache-le ! Cerise sur le gâteau: l'image utilisé pour illustrer le billet est justement celle que j'avais utilisé autrefois (le 2 février 2009), pour témoigner de la résurrection de mon Fantastic Club au détour d'un article ! Comme déjà dit dans les commentaires: les grands esprits se rencontrent.
En tout cas Max, bon courage à toi pour la construction de ta nouvelle zone et vivement la suite !