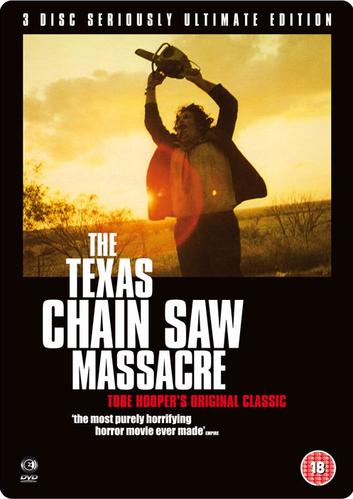 Massacre à la Tronçonneuse, film légendaire, possède un grand nombre d'éditions DVD. Évidemment chaque réédition amène son lot de bonus supplémentaire et de pseudo remasterisation de la qualité de l'image (ce qui n'est franchement pas nécessaire vu l'aspect granuleux voulu du film) avec a chaque fois des titres tels que "special edition", "collector edition" et bien entendu la classique "ultimate edition" qui sous-entend que ça ne sera pas la peine de choisir un autre DVD que celui-ci puisqu'il y a tout dedans.
Sauf que voilà nos amis anglais, qui par chez eux on déjà édité le film en ultimate edition, ressortent encore une fois un DVD de Massacre en version… ultimate ! Alors comment faire la différence entre deux ultimate editions, et quel intérêt de re-ressortir le film si il y avait déjà "tout" dedans? Et bien c'est simple, on rajoute une ou deux interviews supplémentaires et, concernant le titre, on précise que cette fois c'est sérieusement l'édition ultime: The Texas Chainsaw Massacre 3 Disc Seriously Ultimate Edition, et non, ce n'est pas une blague. Celle-ci sortira pour novembre et va contenir un nouveau transfert "haute définition" (ah oui… mais sérieusement, on s'en fout), des commentaires audio de Tobe Hooper, Gunnar Hansen et Marilyn Burns, diverses scènes coupées / alternatives, les bande-annonce, spot radio et lobby cards, ainsi que quelques documentaires parmi lesquels The Shocking Truth. Voilà voilà.
Ah oui, il y aura le film aussi sinon. Mais tout le monde l'a déjà donc on s'en tape un peu en fait.
PS. Le packaging a l'air super moche.