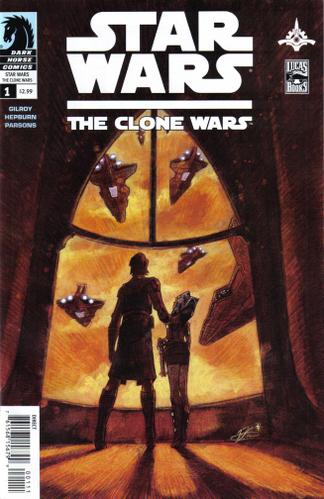 C'était inévitable, l'univers étendu de Star Wars va s'enrichir avec l'arrivée de The Clone Wars récemment au cinéma. Avec ce nouvel épisode (si on peut dire) et l'introduction de la jeune padawan d'Anakin, la saga va alors connaître une nouvelle déclinaison version comic-book publiée par Dark Horse. C'est donc le simplement nommé The Clone Wars qui paraît ce mois-ci avec un première épisode où les personnages principaux sont donc le trio Anakin / Obi-Wan / Ahsoka, avec bien entendu quelques autres en protagonistes secondaires, durant la période de la Guerre des Clones.

Et si le couverture pète les yeux par son graphisme franchement bien foutu, il ne faut hélas pas espérer quelque chose de qualité. The Clone Wars n'est qu'une nouvelle tentative commerciale et ne s'en retrouve pas plus soignée qu'une autre. L'histoire est encore très trouble (normal pour un premier numéro) et le graphisme est assez moyen. Pas de quoi attirer l'attention en fait. Reste a espérer qu'un nouveau dessinateur prendra la relève et que les scénaristes soignent les personnages.
Une sortie française aura évidemment lieu un de ces quatre mais probablement après la parution de plusieurs autres numéros.