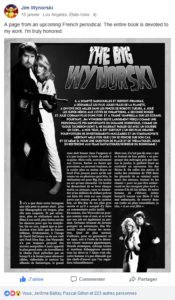 Cela devait être un secret, mais la surprise a fini par être découverte. Et de façon explosive, puisque c'est le principal intéressé qui est le premier à vendre la mouche ! Jim Wynorski, grand parrain de la série B américaine, réalisateur de perles telles que Chopping Mall, The Lost Empire et The Return of Swamp Thing, sera le sujet principal du second Black Lagoon Fanzine. Ceci avec non seulement un énorme dossier qui formera le plus gros de la revue (comprendre articles et chroniques d'un grand nombre de ses films), mais également une rétrospective Swamp Thing qui prendra racine (haha !) dans l'étude de sa très sympathique séquelle, qui surpasse aisément le film original de Wes Craven.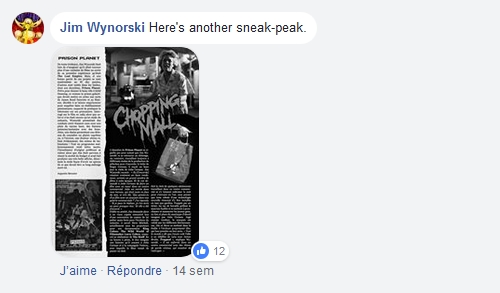 Et bien le metteur en scène vient d'avoir vent de l'affaire et a reçu, en guise de previews, quelques pages pré-finalisées du fanzine. Jamais le dernier pour se faire de la pub, il s'est empressé de poster celles-ci sur son compte Facebook, non sans y aller de son avis: pour lui, c'est un honneur !
Jérôme Ballay (Ze Curious Goods) et Rigs Mordo (Toxic Crypt) se sont empressés de lui répondre afin de lui dire que c'est plutôt l'inverse puisque jamais nous n'aurions pensé qu'un tel retour soit possible. Après tout, Black Lagoon n'en est encore qu'à ses balbutiements… Quoiqu'il en soit, la série de commentaires se montre très encourageante, de nombreux fans félicitant Wynorski de recevoir "enfin" un peu de reconnaissance sur un autre territoire. Et tant pis si la France a la mauvaise réputation d'apprécier Jerry Lewis.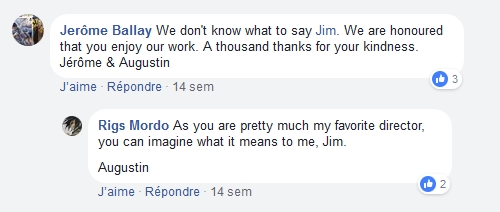 En tout cas, tout le monde est content: lui de recevoir un hommage à travers une revue à la maquette explosive (et de recevoir un peu de pub), nous de le voir repartager notre humble travail (et de nous faire un peu de pub). Espérons maintenant que ce second numéro plaise aussi aux autres lecteurs…