Le slasher est un genre qui se renouvelle sans cesse et qui possède autant de perles que de navets (quoique ce point reste grandement a débattre en fait, mais j'avais besoin d'une phrase d'intro). Avec Laid to Rest, on en revient à l'élément le plus récent qui est l'Internet avec son tueur qui film ses crimes. On se rappel du très mauvais Halloween: Resurrection qui avait déjà eu recours aux webcams pour dynamiser son histoire… Et du coup on préfère ne pas s'en rappeler en fait et d'espérer que Laid to Rest aura une meilleure utilisation du matériel.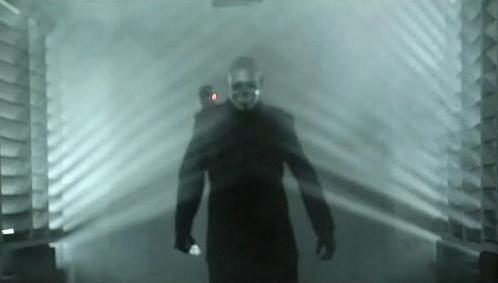 L'histoire demeure assez confuse puisqu'il est question d'une jeune femme amnésique qui se réveille enfermée dans un cercueil sans comprendre ce qu'elle fait là. Elle s'échappe mais est alors poursuivie par un meurtrier au look plutôt étrange puisque portant un masque chromé et avec une caméra sur l'épaule. Celui-ci la poursuit et tue naturellement tout ce qui bouge autour de lui…
L'extrait disponible en ligne en ce moment nous rassure sur un point: Laid to Rest est gore. Son tueur possède un couteau des plus tranchants et son utilisation garantit donc de belles blessures saignantes. Pour le reste, il faudra attendre de voir pour en dire plus mais techniquement, c'est déjà potable. Reste a savoir si le film va surfer sur la lignée des films de tortures façon Saw, s'orienter vers un retour à l'ancienne façon remake ou simplement rester dans le code du genre avec ses propres idées.