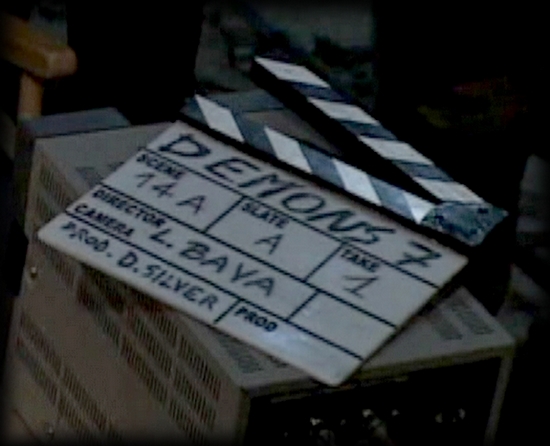 Un clap de cinéma. Rien de spécial, mais il me fallait absolument celui-ci. Pourquoi ? Parce qu'il provient du tournage improbable d'un film d'horreur italien… Démons 7 ! Pour refaire un bref historique de la série, il n'existe en fait que deux véritables Démons: Dèmoni et Dèmoni 2, réalisés respectivement en 1985 et 1986 par Lamberto Bava (fils du légendaire Mario Bava). L'existence d'un Dèmoni 3 a souvent été rapportée, mais il s'agit d'une demi vérité. Le film n'a jamais été réalisé et son scénario fut transformé pour donner celui de La Chiesa / The Church de Michele Soavi, en 1989. Plusieurs films portent toutefois le titre alternatif de Demons 3: le Black Demons de Umberto Lenzi, le téléfilm La Casa dell'Orco de Lamberto Bava…
• La Setta / The Sect de Michele Soavi s'est parfois vu retitré Demons 4.
• La Maschera del Demonio de Lamberto Bava, remake du chef d'œuvre de son père, porte le titre alternatif de Demons 5: The Devil's Veil.
• Enfin Il Gatto Nero (The Black Cat), de Luigi Cozzi, qui peut se voir comme la suite spirituelle de Suspiria et Inferno (il y est question des célèbres Trois Mères de Dario Argento) est quant a lui rebaptisé Demons 6: De Profundis.
Ce Demons 7, réalisé par Lamberto Bava lui-même, s'amuse probablement de tout ces retitrages. Une pratique courante en Italie, et on pourrait tout aussi bien cité des Zombi (soi-disant suites à la série de Romero) ou La Casa (pour les Evil Dead). Les quelques images du tournage semblent cependant prouver que nous avons ici droit à un véritable Dèmoni 3, puisque la méthode de transformation est identique a celle des films originaux. Nous sommes par contre sans nouvelle du projet depuis la mort tragique d'une des actrices…
Source: I Tre Volti del Terrore (Segment #2: "Un Viso Perfetto", AKA "Dr. Lifting")
Retour à l'index du Bazar du Bizarre