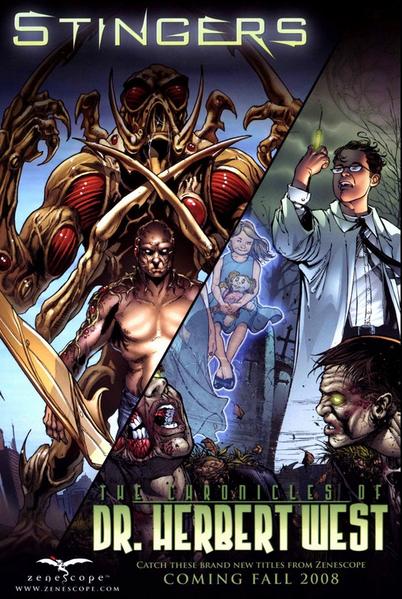 Après un crossover avec Army of Darkness, puis celui avec Hack/Slash qui se fait imminent maintenant que le numéro 14 vient de paraître, Herbert West le célèbre Re-Animateur se fait de plus en plus désirer depuis l'annonce de l'annulation de House of Re-Animator. Et c'est de nouveau sous la forme d'un comic-book qu'il va ressurgir. Un peu à la manière de Dawn of Re-Animator, une vieille mini-série éditée chez Dark Horse qui faisait office de prologue au film de Stuart Gordon (et à l'adaptation en BD de celle-ci), voici venir chez Zenescope (connu surtout pour sortir les Grimm Fairy Tales, une version trash et moderne des contes de fées) ce The Chronicles of Dr. Herbert West. Dont on ne sait absolument rien pour l'instant. En vérité je viens de rentrer de vacances, j'ai des corrections à faire sur ce blog et je me suis levé tôt pour devoir récupérer une nouvelle Darty Box qui m'avait lâché avant ma semaine de repos donc bon, j'ai grave la flemme de faire des recherches. En même temps puisque je n'ai qu'un seul visuel à proposer, ce n'est pas bien grave et de plus amples informations viendront en temps voulu.
A très bientôt donc pour en savoir plus.
PS. Graphiquement ça a l'air de le faire moyen, surtout en comparaison avec la version Hack/Slash, mais bon. C'est une simple cover et ça peut être très différent des planches.